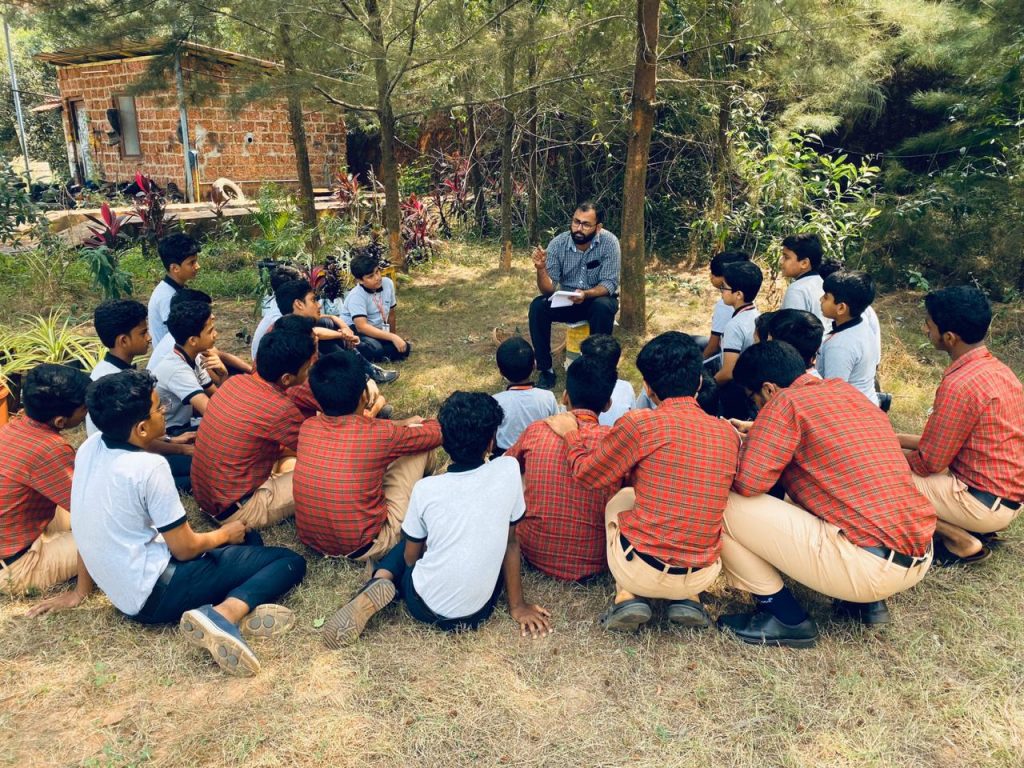 'Chalo Baag Chale' is a special project which consists of a set of guidelines, ethics and ideas that represent the most efficient or prudent course of action.The programme is developed to promote civic sense and civic culture among our children. M.P International School emphasizes moral and ethical values and promotes practices suitable for enhancement of these senses. The future of our communities depends on a generation, not only skilled in academics, but also excited about belonging to an educated community. That community will only arise if today's children are engaged and connected with the school. Effective schools create an environment that increases academic, social and emotional success- an environment which promotes best practices, leading to strong school connectedness. Students are more likely to succeed when they feel connected to school.
The primary goal of this project is to build a close, respectful and productive relationship between the students and their mentors. Another aspect of this project is to promote school-wide environment, creating a zone of physical, emotional and academic safety. By creating this safety zone, it encouraged students to feel valued and competent and to act with pride and respect for school policies and property. Our school educates all children by developing research-based school-wide discipline systems, by trained professionals. The process focuses on improving and supporting positive behaviour for all students.
'Chalo Baag Chale' promotes the characteristics that make the youth more resilient and civic conscious. This helps our school excel by making the students feel safe, supported and capable of solving academic and personal challenges-bringing out in them, the best of their version. The school staff will unite to establish high academic and behavioral standards in an academically, emotionally and socially safe learning environment where every student reaches their personal best through flexible and relevant direction.
CIVIC SENSE
SYLLABUS FOR GRADE 1 & 2
Character building
Necessity of cleanliness and hygiene
Maintenance of class decorum
Inculcate the values of empathy, compassion and honesty
Promote brotherhood and co-operation
Importance of punctuality and discipline
Respect towards elders
Develop obedience
Teach the basic traffic rules
Encourage to take up any hobby (gardening, drawing)
SYLLABUS FOR GRADES 3 – 5
Instil Patriotism
Distinguish right from wrong
Build up leadership quality
Indiscrimination based on gender, religion, race ,colour, etc
Inculcate kindness, compassion, gratitude, unselfishness, etc
Importance of bonding with family
Develop a sense of belonging to the school
Necessity to keep oneself and the surroundings clean
Learn to build friendships
Cultivate healthy habits
Build up moral courage and personal responsibility
SYLLABUS FOR GRADES 6-8
Build tolerance
Respect for others opinions
Demonstrate willingness to serve the community and society
Develop ability to make fair decisions at all times
Build proper etiquette
Instil generosity and empathy
Disinclination towards bullying
Develop graciousness and team spirit
Defend and Abide by the constitution
Instigate service learning(take part in ncc , nss)
Efficient tackling of adolescent problems
Readiness to volunteer
Promote moral uprightness
SYLLABUS FOR GRADE 9 & 10
Participation in the local community
Respect and obey federal, state and local laws
Willingness to overcome challenges
Inculcate a sense of national pride and loyalty
Integrity of behaviour
Perseverant love for learning
Develop traits of good leadership
Value the diversity of the nation
Institute tolerance
Demonstrate filial act towards elders(parents , grandparents, etc )
Readiness to volunteer and serve the society
Understand the concerns of society and develop ways to solve them
Develop moral values like righteousness, forgiveness, love, kindness, etc